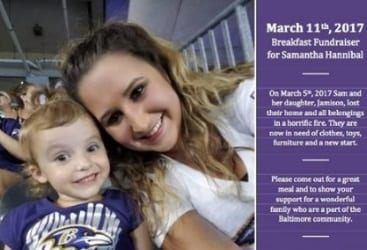 A Towson-area restaurant will host a fundraiser for a woman who lost her home to a fire over the weekend.
As NottinghamMD.com reported over the weekend, Samantha Hannibal and her daughter Jamison lost their home and all of their belongings to a March 5th fire in Parkville.
Sam's boyfriend, Dan Hutchins, was killed in the fire along with one of their dogs.
On Saturday, March 11, Glory Days Grill will host a "Stand with Sam" breakfast fundraiser for Sam and Jamison from 8 a.m. to 11 a.m.
The cost is $10 per person and all proceeds will go to Sam and her family.
Glory Days Grill is located at 1220 E. Joppa Road in Towson.
For more information, visit the event's Facebook page here.
A GoFundMe page has also been established for the family.  You can view more details here.