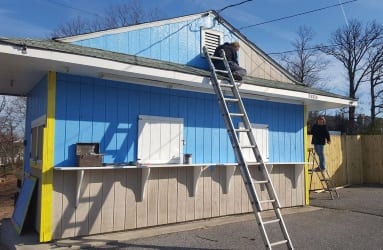 UPDATE: It's official. The Grand Opening will be held on April 8, 2017.
Original story below…
——
A new tropical shaved ice shop will soon be opening in Carney.
Kona Ice of Central Baltimore County will soon be opening a new location at the corner of Joppa Road and Magledt Road.
The site was once the location of My-T-Fine Snowballs, but Joni and Claude Elmore now plan to open a Kona Ice shop there as early as next month.
Baltimore County Councilman David Marks recently introduced legislation that would provide some certainty for snowball stand operators like the Elmores, allowing stands by right in certain zones and with some restrictions.
"This property has been eyed by developers for many years, and I applaud the Elmores for investing to improve this iconic structure," Councilman Marks commented.
The Elmores hope to open the new Kona Ice stand in early April.