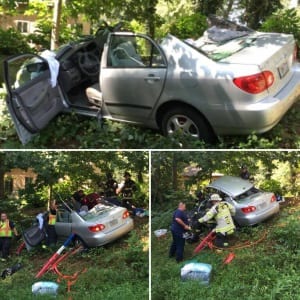 Emergency crews responded to a crash in Kingsville/Joppa on Wednesday morning.
At about 10:15 a.m., paramedics responded to a motor vehicle accident at the intersection of Old Joppa Road and Jerusalem Road.
Crews from the Joppa-Magnolia Volunteer Fire Company, Fallston Fire Company, and Kingsville Volunteer Fire Company are using the "Jaws of Life" to extricate one trapped patient.
A Maryland State Police Medevac chopper has been requested to transport a seriously-injured patient.  It will land at Mountain Christian Church.
Old Joppa Road is currently shut down.
Motorists should expect heavy delays in the area.
Image via Stephanie Sennett/Harford Fire Blog