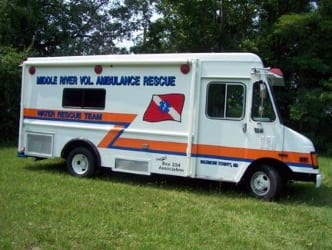 On Wednesday, August 31, 2016, the Middle River Volunteer Ambulance Rescue Company 52 and the Middle River Volunteer Fire Company 22, will merge and become one fire company.
The companies are changing their names but not their mission.
The new Middle River Volunteer Fire and Rescue Company 74 celebrates its new beginning with a ceremony at the Wilson Point Station, 1100 Wilson Point Road, Middle River, 21220.
The two companies began work on the merger in 2013. This union will enhance the services to the Middle River area.
The county says that the new Middle River Volunteer Fire and Rescue Company 74:
Will service the same areas.
Will need new, modern facilities.
Is looking to expand a declining volunteer membership.
Will allow membership growth to exceed 140 members.
Will be able to better respond to emergencies.
Will consolidate fund raising activities.
Will better be able to meet the rising needs of an ever growing area.
Will be better able to ensure the future of the Middle River area as the new, self-sustaining and consolidated Middle River Volunteer Fire and Rescue Company.
The members of the two companies hope to be a role model for other volunteer fire, rescue and EMS companies to follow when there is need to consolidate.
The stations are using their current locations until a permanent home can be built along the Eastern Avenue corridor in Middle River in three to five years.