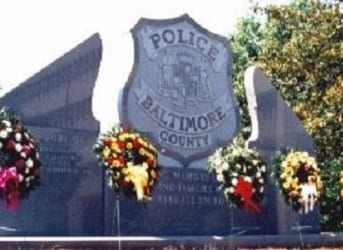 TOWSON, MD – Slain Baltimore County Police Department officer Amy Caprio will be honored at this year's fallen officers' memorial service.  She was also recently posthumously presented with a Valor Award.
Baltimore County Police Foundation Awards
On April 29, the Baltimore County Police Foundation honored 18 sworn officers and two civilians for exceptional service at its annual awards ceremony. The honorees included Officer Amy Sorrells Caprio of the Parkville Precinct for the selfless actions she displayed when she responded to a call for a suspicious vehicle in a Perry Hall community in May 2018. Officer Amy Caprio was posthumously awarded the Valor Award.
Master of Ceremonies Stan Stovall hosted the awards dinner at The Valley Mansion, located at 594 Cranbrook Road in Cockeysville. The event began at 6 p.m. for a meet and greet, dinner was at 7:30 p.m. and the awards presentation began at 8:15 p.m. County Executive Johnny Olszewski, Chief Terrence B. Sheridan and Stephen P. Somers, Foundation President, presented the awards. The benediction and invocation were offered by the Reverend Herbert Watson.
The following personnel received the 2019 Baltimore County Police Foundation Awards.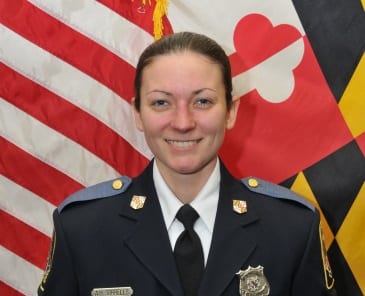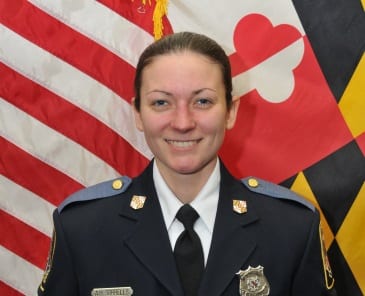 On May 21, 2018, Officer Caprio responded to a call for a suspicious vehicle in a Perry Hall community within the precinct. Another call confirmed that a burglary was taking place and four unknown suspects associated with the stolen Jeep Wrangler were involved. Officer Caprio found the Jeep and followed it into the cul-de-sac. When she arrived, she exited her car with her weapon drawn, then ordered the suspect out of the Jeep. The suspect appeared to be exiting the vehicle per her orders. As she approached, the suspect jumped back into the vehicle and aimed the car at the officer. Officer Caprio fired one shot into the vehicle in an attempt to stop him. The driver accelerated toward the officer, fatally striking her.
Officer Caprio was killed in the line-of-duty. She was presented the Valor Award for her courage and selfless actions during this incident.
The awards program began in 1980 as a way to recognize the Police Department employees for outstanding performance and to strengthen the relationship between the business community and the Department. The Baltimore County Police Foundation contributes resources, including seed money and in-kind services, for the development of new projects.
All members of the department, both professional staff and sworn, are eligible for nomination.
Annual Memorial Service
A memorial service to honor Baltimore County police officers who died while performing their duties will take place on Friday, May 10 at 10 a.m. The service will take place at Patriot Plaza, 401 Bosley Avenue, Towson 21204.
County Executive Johnny Olszewski, Baltimore County Police Chief Terrence B. Sheridan, government dignitaries and the families of the fallen will attend the service.
Ten wreaths will be placed at the memorial by the Police Department Honor Guard. The ten wreaths are in memory of the ten fallen officers.
This year the tenth wreath in honor of Officer Amy Sorrells Caprio will be placed by the officer's family.
The names of officers who died and who will be remembered for their service and dedication are:
Officer Amy Sorrells Caprio
On May 21, 2018, Officer Amy Sorrells Caprio, 29, responded to a call for a suspicious vehicle with multiple suspicious subjects walking around homes on Linwen Way in Precinct 8/Parkville. When she arrived and located the vehicle, she got out of her police car and ordered the driver to exit the vehicle. Instead, the driver accelerated and fatally struck Officer Caprio. She was nearly a four-year veteran of the Department and was married. Officer Caprio is the first female line-of-duty death in the Department's history.
Officer Jason Schneider
On August 28, 2013, Tactical Officer Jason Schneider was shot while serving a warrant in Precinct 1/Wilkens. An investigation into an August 19 shooting on Winters Lane led detectives to a home on Roberts Avenue. Tactical Officer Schneider was shot after an exchange of gunfire with a subject inside the Roberts Avenue home. He was transferred to Shock Trauma, where he later died. Officer Schneider was 36 years old.
Lieutenant Michael Howe
Lieutenant Michael Howe died on August 11, 2008 following a massive stroke. On August 10, 2008, Lieutenant Howe was with his unit at the scene of a murder-suicide in Precinct 4/Pikesville. When Lieutenant Howe returned home after the incident, he collapsed. He was taken to Johns Hopkins Hospital where he died the next afternoon.
Sergeant Mark Parry
Sergeant Mark Parry died on January 21, 2002 from injuries sustained in a traffic crash. On December 27, 2001, while on routine patrol in Towson, Sergeant Parry's unmarked police car was hit by a drunk driver. The driver fled the scene and was arrested a short distance later.
Officer John Stem
Officer John Stem died on October 19, 2000 of complications of paraplegia caused by a line-of-duty gunshot wound he suffered in July 1977. Officer Charles Huckeba was fatally wounded during the same incident in Precinct 1/Wilkens. Officers Stem and Huckeba and other officers were trying to subdue an agitated, armed, 19-year-old man who barricaded himself in his family's home.
Sergeant Bruce Prothero
On February 7, 2000, Sergeant Bruce Prothero was shot and killed during an armed robbery on Reisterstown Road. Four men robbed the jewelry store where the married father of five worked part time as a security guard. Sergeant Prothero followed the armed robbers out of the store and was shot by one of the men. He died an hour later at a local hospital.
Officer Robert Zimmerman
On November 5, 1986, Officer Robert Zimmerman was on foot patrol on Edmondson Avenue in Precinct 1/Wilkens when he was struck in traffic and critically injured. The 41-year-old officer died on November 14, 1986 as a result of his injuries.
Corporal Samuel Snyder
In August of 1983, Corporal Samuel Snyder, a 30-year veteran of the department, was shot by a mentally ill subject while responding to a call for assistance from fellow officers in Towson. Officer Snyder died on August 23, 1983 from his wounds.
Officer Charles Huckeba
Officer Charles Huckeba was shot and killed on July 6, 1977 in Precinct 1/Wilkens as police attempted to talk an armed, drug-abusing, barricaded youth into surrendering. Officer John Stem was also injured during this incident. Officer Stem succumbed to his injuries 23 years later on October 19, 2000.
Officer Edward Kuznar
On December 9, 1969, Officer Edward Kuznar died as a result of a traffic accident. While on traffic patrol near Kingsville, Kuznar was hit head-on by a driver who crossed the center line and crashed into his police car. Both the officer and the driver were killed.
The Baltimore County Police Department Memorial consists of a carved replica of the department badge, flanked by two memorial tablets engraved with the names of those who have died in the line-of-duty since the department was established in 1874.
It bears the inscription:
In lasting memory of those officers and families who made the ultimate sacrifice.
Blessed are the peacemakers for they shall be called the children of God.