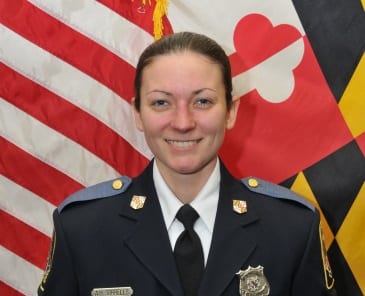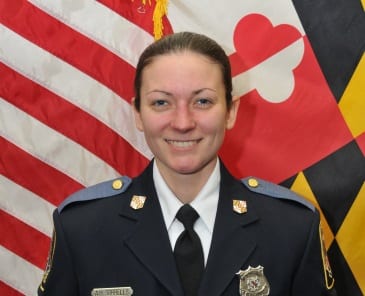 The police officer killed in the line of duty in Perry Hall on Monday afternoon has been identified as 29-year-old Officer Amy Caprio.
All suspects connected to this case have now been arrested.
Officer Caprio was assigned to the Parkville precinct and July would have represented her four-year anniversary with the Baltimore County Police Department.
Officer Caprio was the primary officer responding to a call for a suspicious vehicle with multiple suspicious subjects walking around homes along Linwen Way in Perry Hall/Nottingham (21236) at 1:58 p.m.
A neighbor called 911 adding that the subjects had broken into a home and that a black Jeep Wrangler appeared to be involved.
Officer Caprio arrived in the area, located the black Jeep Wrangler, and followed it to the end of Linwen Way. She exited her vehicle and ordered the driver, identified later as Dawnta Harris, to exit the Jeep. Harris began to exit the Jeep, then got back in and quickly accelerated, driving toward and striking Officer Caprio. Neighbors called 911 reporting that the officer had been struck by a vehicle and may have been shot. One neighbor, a paramedic, ran to the officer's aid to begin CPR. Emergency personnel responded to the scene to aid Officer Caprio, who was taken to MedStar Franklin Square Medical Center with traumatic injuries. She was pronounced dead at 2:50 p.m. on Monday.
The preliminary autopsy results indicate the cause of death to be homicide by traumatic injuries incurred as a result of being struck by the suspect vehicle. No evidence of a gunshot wound was found.
Governor Larry Hogan on Tuesday released the following statement on the passing of Police Officer First Class Amy Caprio:
"We are heartbroken to lose a member of Maryland's law enforcement family, Police Officer First Class Amy Caprio. Officer Caprio was a dedicated member of the Baltimore County Police Department who was soon to celebrate four years with the force. She bravely made the ultimate sacrifice for the safety and security of our citizens, and we all owe her a debt of gratitude for her selfless service.
"We continue to keep Officer Caprio's family, loved ones, her brothers and sisters in blue, and the entire Baltimore County community in our prayers. U.S. and Maryland flags will fly at half-staff through the day she is laid to rest in tribute to her service and sacrifice.
"The State of Maryland continues to stand beside Baltimore County as they work to bring those responsible for Officer Caprio's death to justice."
Acting Baltimore County Executive Fred Homan released the following statement in response to the line-of-duty death of Officer Caprio:
"We are deeply saddened by this tragic loss of one of our dedicated and talented police officers, and extend our condolences to her colleagues, family and friends. The professionalism, teamwork, swiftness and effectiveness of our public safety and police responders, while coping through a loss even greater than ours, has been absolutely first-rate."