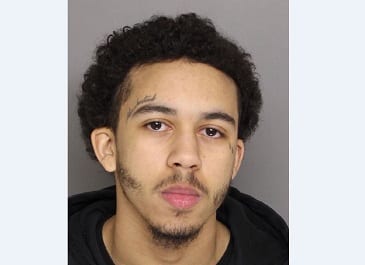 UPDATE 2: Christopher Engels has been convicted in connection with this case.
UPDATE: NottinghamMD has confirmed that this same suspect was arrested after bringing a loaded .45 handgun to Perry Hall High School on February 23, 2017. He was also charged with destruction of property after being linked to shooting at several homes the week prior.
Original story below…
——-
Police have arrested a suspect in the shooting death of Taylor India Webb, who was found dead in her vehicle in Perry Hall just over a week ago.
Christopher James Engles, 19, of Bellhurst Way (21236), has been charged with first-degree murder and remains held without bond at the Baltimore County Detention Center following a bail review hearing earlier this afternoon.
Police have determined that Engles is Taylor Webb's ex-boyfriend.
The two had arranged to meet just half a mile from Engles' home on Bellhurst Way.
The motive for the shooting remains under investigation.
Officers responded to the areof Hickory Falls Way in Perry Hall at a just before midnight on February 27 after shots were heard in the area. Police found Webb in the driver's seat of her vehicle suffering from multiple gunshot wounds to the upper body. She was pronounced dead at the scene.
Facebook Comments