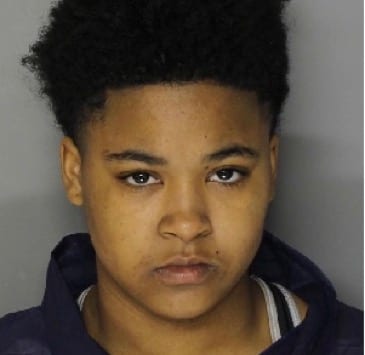 UPDATE 2: The final suspect is now being charged as an adult and has been identified – click here for details.
UPDATE: All four suspects have now been arrested – click here for details.
Original story below…
——
Detectives from the Baltimore County Police Department have made two arrests in connection with the Friday carjacking of a pregnant teacher at Villa Cresta Elementary School.
Story continues below
Tyana Keyshawn Holmes, 16, of the 2400 block of East Federal Street, 21213, has been charged as an adult with carjacking, robbery, and unlawful taking of a motor vehicle. She is being held without bail at the Baltimore County Detention Center.
A 14-year-old girl has also been charged as a juvenile and will remain unidentified.
Detectives continue to work to identify the other two girls involved.
They are also still looking for the black Kia Sportage stolen from the teacher, who is reportedly in good condition.
Anyone who has information on the additional two suspects or the location of the stolen Kia is asked to contact police at 410-307-2020.
Facebook Comments