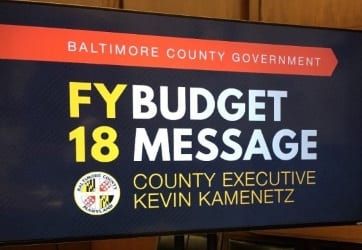 Baltimore County Executive Kevin Kamenetz submitted a $3.15 billion budget for fiscal year 2018 on Thursday.
The new county budget will provide many positive initiatives that will help the citizens of northeastern Baltimore County.
Initiatives include $500,000 for improvements to Double Rock Park, $800,000 for turf fields at Perry Hall High School, and $4 million for the dredging of the Bird River. The budget will also include $500,000 for indoor turf at the Northeast Regional Recreation Center, Parkville Senior Center will receive $1 million for a new cooling and heating system, and Rosedale Senior Center and Lorely Community Center will receive funds for new roofs.
CCBC Essex will receive $60 million for a new Heath Center and Technology Building. Shady Spring Elementary School and McCormick Elementary School will receive new chillers to improve their air conditioning system. Fullerton Field will receive $86,000 to refurbish its fields, Chase Elementary School will receive funds for new sidewalks, Golden Ring Middle School will have a new elevator installed, Vincent Farm Elementary School will install an exterior ADA compliant ramp, and Orems Elementary School will receive $313,000 for a new parking lot.
County wide, Baltimore County employees will receive a 2% COLA increase, $38 million will be appropriated for road resurfacing, and $7.1 million will be allocated to roads. The County will provide $212 million for infrastructure improvements across the county and the Baltimore County 911 center will receive $2.5 million to replace old equipment. In addition, $1 million will be provided for grant programs that Baltimore County Volunteer Fire Companies can apply for.
The county budget will not increase the property tax rate for the 29th consecutive year and the county income tax rate will not be increased for the 25th consecutive year. The county will maintain its AAA bond rating, the highest possible rating available.
The County Council is scheduled to vote on the budget May 25, 2017.