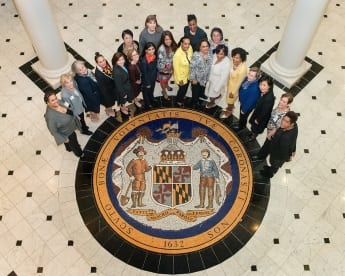 TOWSON – Hazel Montgomery-Walsh, a Grade 8 student at Arbutus Middle School, and Isabella Hessler, a Grade 8 student at Perry Hall Middle School, might still be teens, but they have received 2017 Women of Tomorrow Awards from the Maryland Commission for Women.
Montgomery-Walsh and Hessler were two of the five middle and high school students honored with this award at a ceremony on March 16 at the Miller Senate Building in Annapolis. The award recipients were selected from a pool of 73 nominees statewide.
Montgomery-Walsh, who was nominated by Kelly Boyle, a music educator at her school, is a "straight A" student, president of her school's National Junior Honor Society chapter, and a student ambassador trained in conflict resolution. She plays violin, saxophone, and flute and is in the school band. She is on the school basketball team and also plays lacrosse and soccer.
She hopes to promote understanding and compassion and can envision herself as an engineer, astronaut, translator, refugee worker, or president.
In her application, Montgomery-Walsh wrote that she wants all women – regardless of religion, gender identity, or situation – to receive "the message that they are strong, they are deserving, they are beautiful, they are worth it, they are amazing and that together, WE are the women of tomorrow."
Hessler, who was nominated by Michelle Siri of the Women's Law Center of Maryland, has a 3.9 grade point average and is a member of the National Junior Honor Society and the National French Honors Society. She has collected school supplies for underserved populations, raised money for cancer research, and collected food for the homeless. Beyond academics and community service, Isabella competes in both soccer and sabre fencing, has played piano since she was four years old, and plays alto and baritone saxophone.
She hopes, ultimately, to attend law school, and serve as an advocate for equal rights.
"Some see a leader as the point of a 'V'," Hessler wrote, "where I see a leader as the center of a horizontal line, bringing her group with her as equals."
The awards reception was hosted by the Maryland Commission for Women in partnership with the Maryland Women's Hall of Fame. In addition to the presentation of Women of Tomorrow Awards, the event included the induction of the newest members of the Hall of Fame.