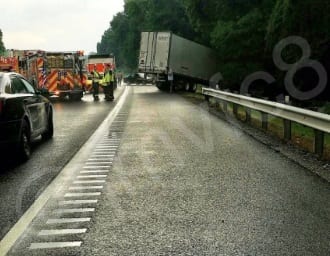 Interstate 95 was plagued with accidents on Friday afternoon, seemingly the result of storms that swept through the region.
Three separate crashes were reported along southbound I-95 approaching Baltimore County in the late afternoon.
In the first crash, which occurred at just after 3 p.m., a tractor-trailer went off the highway and into the woods.  One person was injured and hazmat crews were called to the scene to clean up diesel fuel.  The three right lanes of southbound I-95 were close as a result, according to the Joppa-Magnolia Volunteer Fire Company.
The second crash, which took place just after 3:15 p.m., involved five vehicles, including a tour bus. Four people were injured and the right lane was blocked.
The third crash occurred at just before 3:30 p.m. and involved two vehicles. One person was injured and the left lane was blocked.
Crews from the Baltimore County Fire Department, Joppa-Magnolia Volunteer Fire Company, White Marsh Volunteer Fire Company and the Abingdon Fire Company responded to these incidents.
Traffic was backed up along I-95 well into the evening rush. Alternate routes, such as Route 40, were also congested.