UPDATE: The Avanti Frozen Foods recall has been expanded.
Original story below…
——
NOTTINGHAM, MD—Two food recalls have been announced by the U.S. Food and Drug Administration.
Avanti Frozen Foods Shrimp Recall
Avanti Frozen Foods Pvt. Ltd, due to an abundance of caution, is recalling certain consignments of various sizes of frozen cooked, peeled, deveined, shrimp (with some packaged with cocktail sauce) sold in various unit sizes, because it has the potential to be contaminated with Salmonella. The frozen shrimp products were distributed nationwide from late December 2020 to late February 2021
Salmonella, an organism which can cause serious and sometimes fatal infections in young children, frail or elderly people, and others with weakened immune systems. Healthy persons infected with Salmonella often experience fever, diarrhea (which may be bloody), nausea, vomiting and abdominal pain. In rare circumstances, infection with Salmonella can result in the organism getting into the bloodstream and producing more severe illnesses such as arterial infections (i.e., infected aneurysms), endocarditis and arthritis.
The affected product details are as below. The brand names of the products are:
Censea/Hannaford/Open acres/Waterfront Bistro/Honest catch/COS/365/Meijer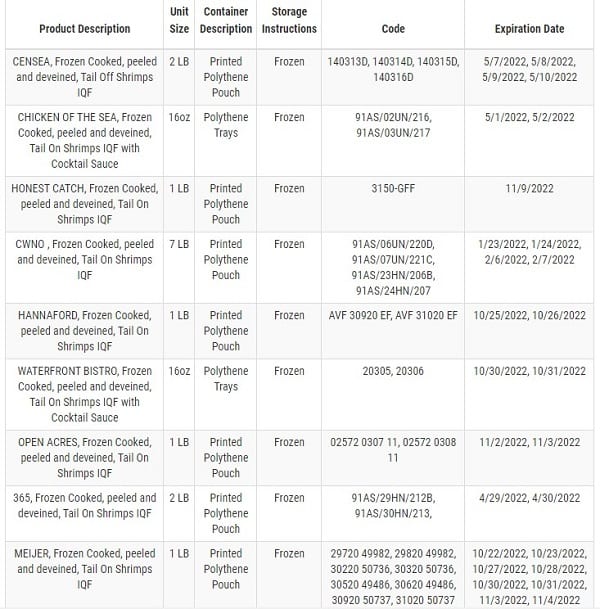 Products not bearing these codes are not affected by or involved in this recall.
There have been 6 reports of Salmonella-related illness to date associated with these cooked shrimp distributions. The potential for contamination was identified by FDA based on its prior testing of frozen cooked shrimp imported by Avanti Frozen Foods that was found to contain Salmonella. Avanti Frozen Foods did not distribute and destroyed that prior shipment found to be violative. The company has taken preventative steps to eliminate the potential for future contamination.
Consumers who have purchased the above product are urged to return them to the place of purchase for a full refund. Consumers with questions may contact the company at +914023310260/+914023310261, Mon – Fri :10:00 hrs -16:00 hrs , GMT+5.5.
Dole Blueberries Recall
Dole Diversified North America, Inc. is recalling a limited number of cases of Dole™ Fresh Blueberries packaged in a variety of clamshell sizes for potential Cyclospora contamination.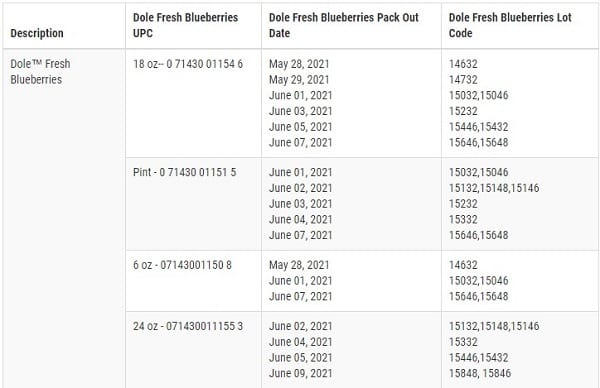 This voluntary recall is due to possible Cyclospora contamination on Dole™ Fresh Blueberries. Dole Diversified North America, Inc. is coordinating closely with regulatory officials. No illnesses have been reported to date in association with the recall.
Cyclosporiasis is an intestinal infection caused by the Cyclospora parasite. A person may become infected after ingesting contaminated food or water. Common symptoms include severe abdominal pain, diarrhea, nausea and vomiting, body aches and fatigue. The infection is treated with antibiotics and most people respond quickly to treatment.
The product lot code is located on the top label of the clamshell and is a series of numbers printed by inkjet in black. Dependent upon where the numbers are printed, they may go across the wording on the label. The impacted products were distributed in four US states (IL, ME, NY, and WI), and two Canadian provinces (Alberta and British Columbia). Consumers are advised to check any product they have in their homes and discard any product matching the production description, UPC codes, and product lot codes listed above.
No other Dole products are included in the recall. Only Dole™ Fresh Blueberries with the exact UPC and lot code combinations identified above are included in the recall. Consumers who have any of the recalled product should not consume it, but rather discard it immediately. Retailers and consumers with questions may call the Dole Consumer Center at 1-800-356-3111, which is open 24 hours a day.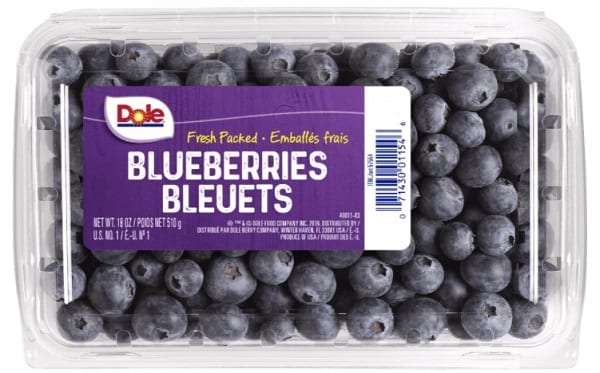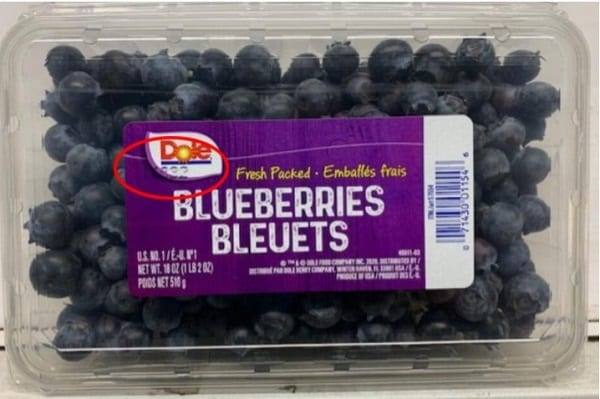 Facebook Comments