UPDATE 2: Colonial Pipeline has initiated a restart of pipeline operations.
UPDATE: Governor Larry Hogan has authorized emergency measures to address the Colonial Pipeline incident.
Original story below…
——
NOTTINGHAM, MD—The effects of the Colonial Pipeline ransomware attack are beginning to be felt in Maryland.
GasBuddy reports that, as of Wednesday afternoon, 9% of gas stations in the state are without fuel.
Earlier this week, the EPA waived volatility requirements governing gasoline in Maryland, Virginia, Pennsylvania and Washington, D.C., through May 18, in an effort to bring more fuel to the area.
The FBI on Monday confirmed that the Darkside ransomware was responsible for the compromise of the Colonial Pipeline networks, a major U.S. artery for gasoline, diesel and jet fuel. The agency continues to work with the company and government partners on the investigation.
Colonial Pipeline Company issued the following statement on Tuesday:
Since our pipeline system was taken offline, working with our shippers, Colonial has delivered approximately 967,000 barrels (~41 million gallons) to various delivery points along our system. This includes delivery into the following markets: Atlanta, Ga., Belton and Spartanburg, S.C., Charlotte and Greensboro, N.C., Baltimore, Md. and Woodbury and Linden N.J.
Additionally, in preparation for our system restart, we have taken delivery of an additional 2 million barrels (~84 million gallons) from refineries for deployment upon restart.
Consistent with our safety policies and regulatory requirements, Colonial has increased aerial patrols of our pipeline right of way and deployed more than 50 personnel to walk and drive ~5,000 miles of pipeline each day.
Here is the percentage of stations that are out of fuel by state, as of Wednesday afternoon, according to GasBuddy:
GA – 42%
AL – 6%
TN – 14%
SC – 42%
NC – 65%
FL – 10%
VA – 42%
MD – 9%
MS – 5%
WV – 4%
KY – 2%
DC – 8%
To narrow in on specific cities, towns and stations, visit https://tracker.gasbuddy.com.
On the week, the national gas price average jumped six cents to $2.96, according to AAA. If the trend continues, an increase of three more cents would make the national average the most expensive since November 2014.
Highest gas prices in the Baltimore area over the past 24 hours, according to GasBuddy: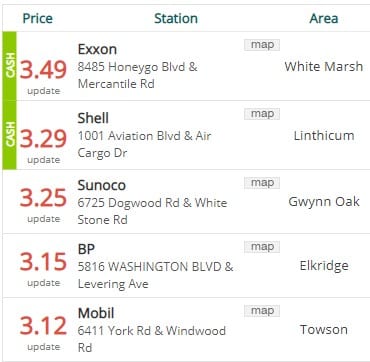 Facebook Comments