NOTTINGHAM, MD—THE AVENUE at White Marsh is warning shoppers of a new Facebook scam.
THE AVENUE has been posting official gift card giveaways all week, however now someone is attempting to capitalize on their generosity.
Officials say someone is messaging Facebook users pretending to be THE AVENUE and encouraging them to click a link to claim a huge cash prize.
The scammers are even using THE AVENUE's official logo when sending the message.  Based on the screenshot below, the scammers appear to be sending the message from a fake personal profile as opposed to the message coming from THE AVENUE's official Facebook business page.
The message and link are fraudulent and are most likely a phishing attempt.
Anyone who receives this message should report the account and block the sender immediately.
"It's been a wonderful week for us – posting our gift card giveaways," THE AVENUE officials said in a statement. "This type of scam is unfortunate and we apologize for the confusion and inconvenience."
See a screenshot of the fraudulent message below.
Advertisement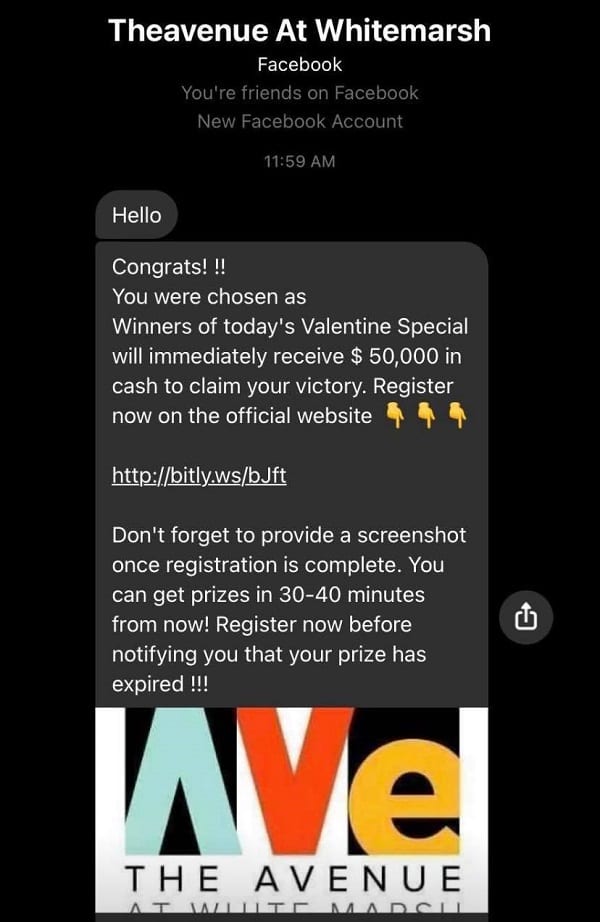 Facebook Comments