UPDATE 2: A Flood Warning is also now in effect until 11:30 p.m.
UPDATE: A new Tornado Warning has been issued for the Nottingham/Perry Hall/White Marsh area that will remain in effect until 5:45 p.m.  See updated graphic below.
At just before 5:15 p.m., a severe thunderstorm capable of producing a tornado was located over Baltimore, moving east at 25 mph.
For those in the direct path of a tornado touchdown, flying debris will be dangerous to those caught without shelter. Damage to roofs, siding, and windows may occur. Mobile homes may be damaged or destroyed. Tree damage is likely. This dangerous storm will be near Parkville around 5:15 p.m. EDT, Carney and Rossville around 5:25 p.m. EDT, and Rosedale and White Marsh around 5:30 p.m. EDT.
Other locations impacted by this tornadic thunderstorm include Nottingham, Middle River, Chase, Essex, Bowleys Quarters, Eastpoint, Fullerton, Loch Raven Village, Martin State Airport, Chase, Joppatowne, Edgemere and Edgewood.
Original story below…
——
NOTTINGHAM, MD—The National Weather Service has issued a Severe Thunderstorm Warning and Tornado Warning for portions of Baltimore County.
The Tornado Warning will be in effect until 5 p.m. and the Thunderstorm Warning will be in effect until 5:15 p.m.
The Tornado Warning mainly covers the Towson area and the Thunderstorm Warning is in effect for Parkville, Hillendale, Carney, and Rosedale.
The specific reas covered by each warning can be viewed in the graphics below.
Residents should stay weather-aware throughout the evening.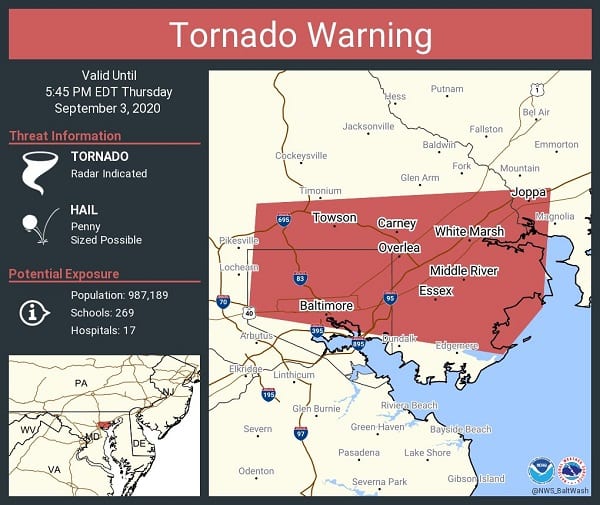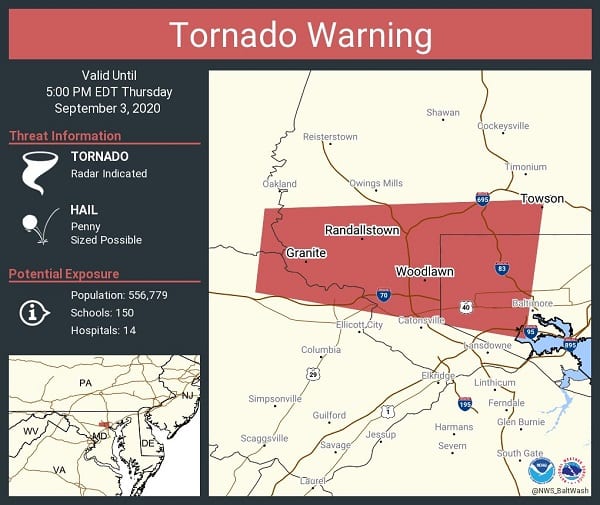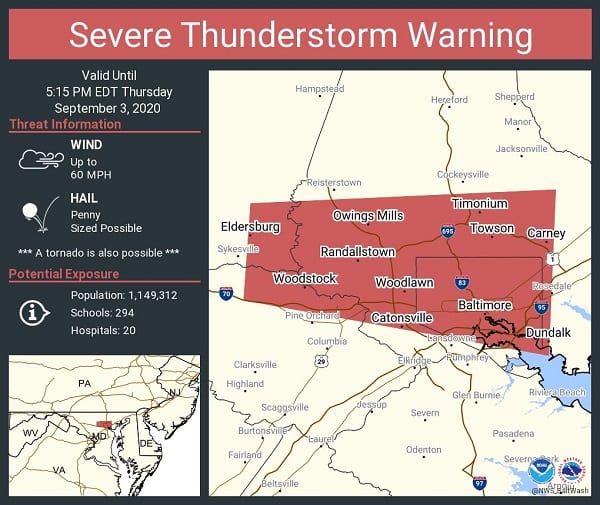 Facebook Comments