UPDATE 3: A Tropical Storm Warning is now in effect.
UPDATE 2: A Tropical Storm Watch has been issued for the Nottingham area.
UPDATE: The National Weather Service has issued a Flash Flood Watch for the Nottingham area.
Original story below…
———
NOTTINGHAM, MD—Hurricane Isaias has become a tropical storm once again, but forecasters on Sunday said the odds of significant flooding impacts in the Maryland area were increasing.
The latest Tropical Storm Isaias projected path from the National Hurricane Center shows the storm making a direct pass over central and eastern Maryland on Tuesday.
Tropical storm conditions will spread northward along the east coast of Florida through early Monday and will reach the coasts of Georgia, South Carolina, and southern North Carolina by Monday and early Tuesday.
Widespread river flooding is possible across portions of the Mid-Atlantic as the storm moves northward.
Additional watches and warnings will likely be issued on Sunday evening and on Monday as Isaias is expected to move northward near or over the Mid-Atlantic and northeast coasts on Tuesday and Wednesday.
The Maryland Emergency Management Agency encourages residents to "Know Your Zone."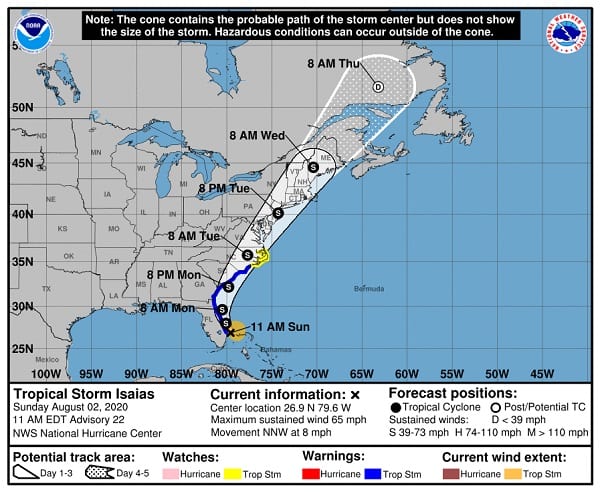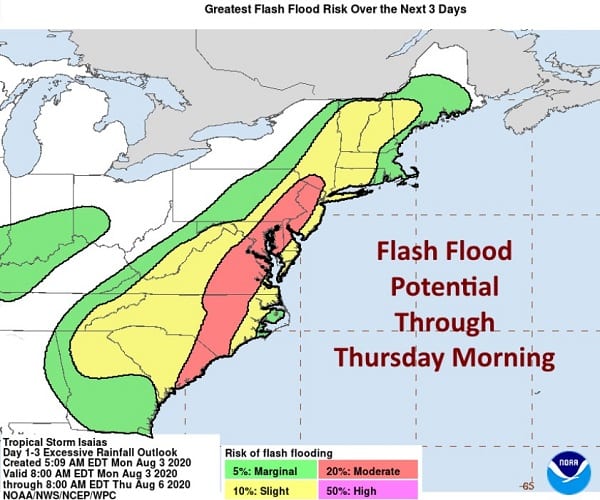 Facebook Comments