BALTIMORE, MD – The teen who ran down Officer Amy Caprio in the line of duty in 2018 has been sentenced to live in prison.
On Wednesday, Dawnta Harris was sentenced to life in prison with the possibility of parole in the first-degree felony murder case.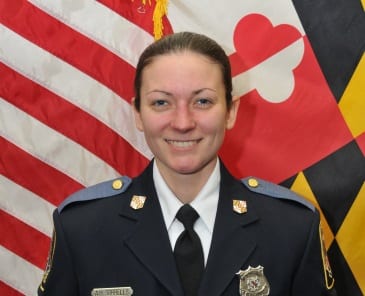 In May 2018, Officer Caprio, who was from Fallston, was investigating a suspicious vehicle on Linwen Way in Perry Hall.  Harris was behind the wheel and ran down Officer Caprio.  She died from her injuries.
He was found guilty of first-degree murder back in May.
Harris' attorney argued that he hadn't meant to kill Caprio and that he panicked as he and his friends had been stealing things from homes in the neighborhood.
Harris faced 19 charges in court but was convicted on three of them in May.
Derrick Matthews, 17; Darrell Ward, 17; and Eugene Genius, 18, pleaded guilty to first degree-murder charges in June for their role in the burglaries.
"No penalty can bring back Officer Caprio or eliminate the pain Mr. Harris inflicted on the family of Officer Caprio or the Perry Hall neighborhood I represent,," said Councilman David Marks. "I would like to thank the prosecutors who pursued the toughest sanctions allowed by law."