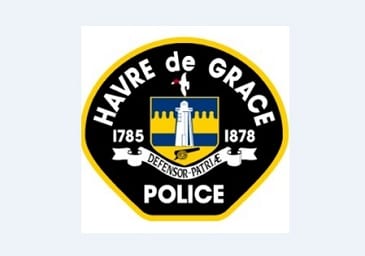 HAVRE DE GRACE, MD – A Perry Hall man who is a police office with the Havre de Grace police department was honored on Monday for saving a woman's life last month.
Arlene Georgakis says Officer Chad Smith gave her a "second chance at life."
Georgakis attended Monday's Havre de Grace City City Council meeting, where Smith was presented with a Life Saving Award, according to The Aegis.
On the morning of April 27, Smith was traveling eastbound along Route 43 in Baltimore County after finishing his shift when he saw what he believed was a disabled vehicle along the side of the roadway.  As he got closer, Smith saw Georgakis in "medical distress" and people trying to help her.
Smith pulled over, gave his location, requested assistance, performed CPR, and used an AED to revive Georgakis.  Paramedics soon arrived and transported Georgakis to a nearby hospital.
At Monday's meeting Havre de Grace Mayor William T. Martin thanked Smith for his efforts and gave him a challenge coin on behalf of the city, The Aegis reports.
Facebook Comments