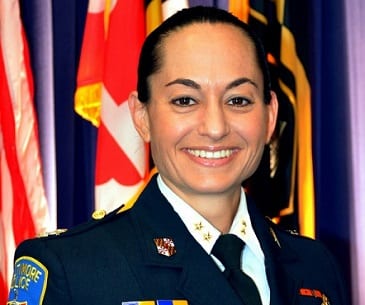 TOWSON, MD – County Executive Johnny Olszewski has nominated Melissa Hyatt to serve as the Baltimore County Police Chief.
"This was an important decision for the residents of Baltimore County and the officers of the Baltimore County Police Department," said Olszewski. "We had an extremely talented pool of candidates to choose from, making the selection a difficult one, but Chief Hyatt stood out as the right candidate for this position. I am confident that she brings the leadership and vision necessary to continue to build a safer and better Baltimore County."
Hyatt, who will be the first woman to lead the Baltimore County Police Department, joins the department after serving as the Vice President for Security for Johns Hopkins University and Medicine. Prior to that, Hyatt served for more than 20 years with the Baltimore Police Department, where she held senior leadership roles including Chief of Staff, Chief of Patrol, Chief of Special Operations & Development, and Chief of the Special Operations Division.
A Baltimore County native, Hyatt is a graduate of the FBI National Academy and has received training through the Naval Postgraduate School Executive Leaders Program, Center for Homeland Security Defense and Security; the Major Cities Chiefs Police Executive Leadership Institute; and the United Nations Police Commanders Course in Sweden. Hyatt holds a Bachelor of Arts in Criminal Justice from University of Delaware and a Master's of Science in Management from Johns Hopkins University.
"I feel honored to be chosen for the opportunity to serve the citizens and police officers of Baltimore County," said Hyatt. "I have dedicated my life to public safety and I am excited to continue to serve."
She will join the Baltimore County Police Department effective in mid-June, replacing Chief Terry Sheridan, who has served as chief since 2017. Sheridan announced his retirement late last year.
"I'm thankful for Chief Sheridan's steadfast leadership and dedication to public safety here in Baltimore County and across the state of Maryland," Olszewski added. "He has been a lifetime public servant, dedicating more than 30 years to the Maryland State Police and a collective 14 years with the Baltimore County Police Department."
With Hyatt's appointment, all of Baltimore County's public safety agencies will be led by women. County Executive Olszewski appointed Joanne Rund to serve as Chief of the Baltimore County Fire Department, and she was confirmed unanimously by the County Council. The Baltimore County Department of Corrections has been led by Gail Watts since 2017, and Baltimore County's 911 Communications Center is led by Chief Tammy Price.