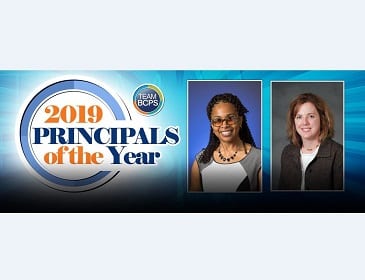 TOWSON, MD – Honeygo Elementary's Charlene Behnke and Overlea High's Monica Sample were named the 2019-20 BCPS Elementary and Secondary Principals of the Year at last night's Teacher and Principal of the Year ceremony at George Washington Carver Center for Arts and Technology.
"Charlene Behnke and Monica Sample are not just dedicated to students, they are dedicated to the entire communities that they serve," BCPS Interim Superintendent Verletta White said. "They have worked tirelessly to support students and staff. I am so proud of the relationships they have established and nurtured."
Behnke is in her first year as principal at Honeygo Elementary, which opened to students in September. Long before Honeygo's doors opened, Behnke met with students, parents, and community members to make them feel welcome. She relied upon her experience as principal at Vincent Farm Elementary from 2013-17 and Seneca Elementary from 2006-13 to build a positive school community.
Advertisement
Sample refers to her students as young scholars and supports them in any way she can to achieve their goals. She was recently named a 2019 Literacy Leader by Loyola University. The Literacy Leader Award recognizes graduates of Loyola's literacy master's program specializing in either reading or literacy who promote literacy, demonstrate innovation in practices, exhibit principal leadership within the school or community, and model lifelong learning as a member of the professional literacy community.
Sample is in her third year as principal at Overlea High. Previously, she served as assistant principal at Randallstown High for four years and assistant principal at Milford Mill Academy for six years.
Last year's BCPS Principals of the Year were Cromwell Valley Elementary Regional Magnet School's Cathy Thomas and Deer Park Middle Magnet's Dr. Kandice Taylor.
The BCPS Principal of the Year program is in its seventh year. This is the fourth year BCPS has named an Elementary and Secondary Principal of the Year.
Facebook Comments