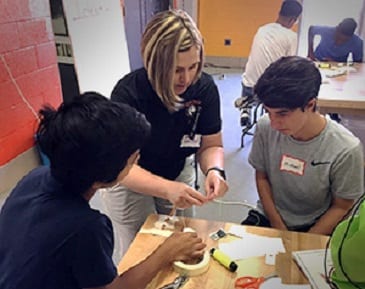 The Technology & Engineering Educators Association of Maryland (TEEAM) has selected Angela Waldrop, an engineering teacher at Eastern Technical High School, as the High School TEEAM Teacher Excellence Award winner for Maryland.
To receive this award, a teacher must have an extensive background in technology and engineering education and must pursue meaningful ongoing professional development opportunities. Creative and innovative use of resources and meeting the needs of a diverse student population are also crucial factors considered.
Waldrop, who has taught for Baltimore County Public Schools for 13 years, said, "The main goals of technology and engineering education are to prepare students to recognize and use various sources of technology, including cutting-edge tools and devices … to prepare them to be competitive, global citizens."
Advertisement
Waldrop emphasizes that her global approach to teaching technology and engineering education is focused on the 'Design Thinking' process, in which students are taught to investigate and innovate based on the needs of a particular person or group of people. She added, "This branch of education should prepare students to have a positive attitude when problems arise so they may seek out tools and systems to solve such problems."
Waldrop, who, in addition to teaching at Eastern Tech is also the coordinator of the school's MESA (Math Engineering Science Achievement) Club, will be recognized at the TEEAM Teacher Excellence Awards dinner in February 2019 at The Engineers Club in Baltimore. She also will be considered for a state/national award at the ITEEA 2019 Conference to be held in Kansas City, Missouri.
Facebook Comments