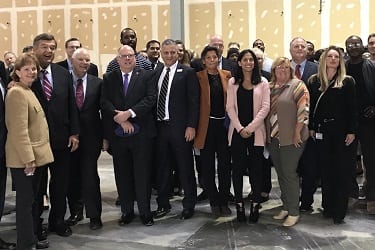 Governor Larry Hogan on Thursday joined executives and employees from Mistral Group, a Bethesda-based company that provides practical system solutions to the U.S. market through adaptation and integration of Israeli defense technologies and U.S. engineering and manufacturing, to cut the ribbon on the company's new manufacturing facility in White Marsh.
Earlier this year, the company decided to move its manufacturing operations from Pennsylvania and consolidate some of their other Maryland operations, which will result in 50 new jobs companywide. Mistral Group operates in a number of global markets to help bridge operational gaps in defense and law enforcement.
"We're excited to open our new manufacturing facility and remain in Maryland," said Eyal Banai, Mistral CEO. "Mistral Group is a team of independent companies, each operating in different markets worldwide, while collectively sharing the mission of 'bridging' operational gaps in the defense and law enforcement markets with practical, innovative, and high technology readiness solutions. We're proud that we'll be manufacturing those products at the new Maryland facility and adding 50 jobs to the local economy."
"For decades, Mistral has identified America's defense and homeland security needs and brought proven Israeli technologies here to solve those problems," said Governor Hogan. "With the addition of this new facility, those solutions will be manufactured right here in Maryland. Mistral is adding 50 new jobs and expanding their exceptionally talented, high-tech workforce in our state to 70, further proving that Maryland truly is open for business."
Mistral works closely with the U.S military and law enforcement, as well as many of the country's top defense contractors on security solutions. Among their products are explosion-proof containers that store suspicious or volatile materials, as well as detection systems designed to keep explosive materials from getting onto airplanes.
Advertisement
By adding the 50 new jobs, the company is eligible for various state and local tax credits, including the Job Creation Tax Credit and the More Jobs for Marylanders Tax Credit, which incentivize manufacturers to create new jobs in the state.
"Mistral has been a great corporate citizen in Maryland for more than 30 years, and we are excited to welcome their manufacturing operations here," said Maryland Commerce Secretary Mike Gill. "With our highly-skilled workforce, and benefits like the More Jobs for Marylanders program, we are continuing to see more manufacturers locate and expand in Maryland."
In 2016, Governor Hogan led a weeklong economic development trade mission to Israel, where he met with a number of Israeli companies and promoted Maryland as an ideal location for Israeli businesses looking to have a U.S. presence.
"Baltimore County's exceptional talent and supportive business climate make it easier for companies to stay and expand here. We're pleased Mistral is adding 50 manufacturing jobs to its tech workforce in White Marsh," said Baltimore County Director of Economic and Workforce Development Will Anderson.
Maryland has long maintained ties with Israel, building on shared strengths in biotechnology, information technology, aerospace, and defense. Currently, about 30 Israeli companies maintain offices in Maryland, including Rafael Advanced Defense Systems Ltd., Medispec, and IMI Services (a subsidiary of Israel Military Industries). In 2017, Israel was Maryland's 16th largest trading partner with $145.1 million in product exports, mostly chemicals, transportation equipment, and computer and electronic products.
Facebook Comments