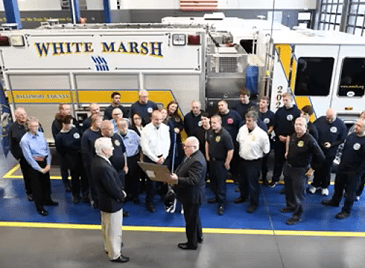 Governor Larry Hogan routed the White Marsh Volunteer Fire Company's brand new station on Thursday, presenting the organization with an official citation commemoration the opening.
The new facility held a grand opening event earlier this month.
"The state provided financial support through state bond bills and SB-508 funds in order to assist with construction and the annual mortgage," WMVFC said in a statement.
The new, $6.9 million station, located at 10331 Philadelphia Road (21162), replaces WMVFC's previous facility located at 5419 Ebenezer Road.
Story continues below
The State of Maryland will take possession of the Ebenezer Road facility, which will be demolished and the site converted to open space.
The new station features five engine bays, a modern training tower, a study area, a community/training room and four live-in bunk rooms and six other dorms capable of sleeping 18 volunteer personnel.
Facebook Comments