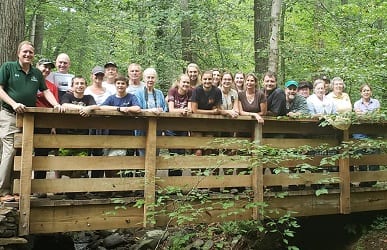 On Sunday, August 19, volunteers dedicated a new footbridge that will help visitors at Gunpowder Falls State Park in Baltimore and Harford Counties.
For her Girl Scout Gold Award, Marley Downes led the construction of a 20-foot bridge near Historic Jerusalem Mill Village at the park.
Story continues below
Her construction team had to transport lumber and equipment one-third of a mile over difficult terrain.
"In my eight years as a Councilman, I have seen many Girl and Boy Scout projects, and each is worthwhile and special," said Councilman David Marks. "This project was one of the most difficult I have ever seen completed by a Girl or Boy Scout. It was a great honor to participate in a dedication ceremony today and help recognize this extraordinary young woman."
Facebook Comments