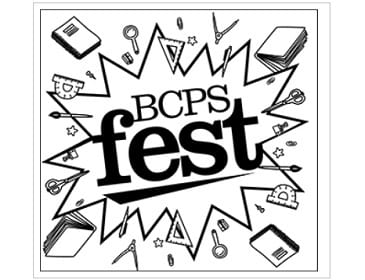 In less than one week, Baltimore County Public Schools students, teachers, staff, and families will gather to celebrate the upcoming school year at BCPSfest, the school system's biggest and best back-to-school festival ever.
The festival will be held on Saturday, August 25, from 10 a.m. to 1 p.m., on the lower parking lot at Boscov's at White Marsh Mall.
The first 250 students to visit at least 10 booths will receive a small gift pack of school supplies. Featured festival entertainment will be DJ Clark, Eastern Technical Varsity Cheerleaders, Perry Hall High School Gators Marching Band, and the Overlea High School Choir.
Vendors, representing the school system and community and business partners, will offer fun, family-friendly, hands-on activities and giveaways. This year's vendors are:
Story continues below
From BCPS
Alumni pennants – for sale, $5 each
Career and Technology Education – robotics, 3D printing, simulated babies
College and Career Readiness – goal-setting, picture booth
Edgemere Elementary School – quiz game, drones
English Language Arts – creating magnetic poetry
Food and Nutrition Services – answering questions about school meals
Health and Physical Education – rope jumping area and jump rope giveaway
Library Media Programs – storytime booth with local celebrity readers
Magnet Programs – information about application process, options
Mathematics – math games
Mobile Innovation Lab – LEGO construction, circuitry, computer programming
Music and Dance Education – Wheel of Dance, interactive music activity
Parentmobile – mobile resource center
Resource Centers for Families and Schools – selling learning materials
Schoology – Dept. of Innovative Learning – registering parents with MyBCPS accounts
Science – launching straw rockets
Social Studies – makerspace activity based on Ada's Violin
Transportation – bringing a school bus
Visual Arts – printmaking bookmarks
From the community
AETNA Better Health – cornhole game, information, giveaways
Adventure Dental, Vision, and Ortho
Baltimore County Health Dept. – WIC and energy assistance programs
Baltimore County Police Dept., White Marsh – goggles to experience impairment
Baltimore County Public Library Bookmobile
Baltimore County Public Library, White Marsh branch
Charley's Grilled Subs – food vendor
Chick-fil-A – food vendor
Colgate-Palmolive Dental Van – dental screening, free toothbrushes
Dave & Busters – food vendor
Every Locker – printing and selling t-shirts
Fire Museum of Maryland – bringing antique 1949 Mack fire engine
First Financial Federal Credit Union – book giveaway and reading nook
Glenn L. Martin Maryland Aviation Museum
iFly Baltimore – building parachutes with a wind tunnel simulator
Irvine Nature Center – nature crafts, animal guests
Maryland 529 – information about saving for college
Medieval Times – bringing a princess or king
Patient First – medlcal information, giveaways
R.S.V.P. – Retired Senior Volunteer Program – volunteer opps for seniors and schools
This event is sponsored by The Education Foundation of Baltimore County Public Schools.
Facebook Comments