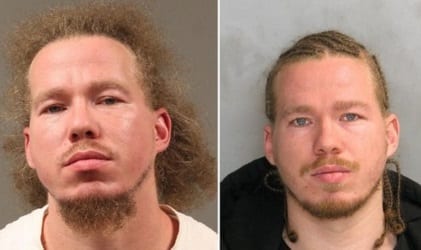 UPDATE: Luedtke has been taken into custody – details here.
Original story below…
——
Police are asking for the public's assistance in locating Jerome Irvin Luedtke Jr., 33, wanted on animal cruelty charges for beating a small dog to death with a glass bottle.
On January 13, police were called to Pet ER on Cromwell Bridge Road when Luedtke and a female roommate brought in their severely beaten Chihuahua for treatment at around 6:30 a.m. The couple had conflicting stories as to how the dog became injured.
Story continues below
Detectives have determined that Luedtke struck the dog, Ginger, numerous times with two different large glass bottles, causing severe trauma to its head after the dog bit Luedtke in the hand. The roommate convinced Luedtke to take Ginger to Pet ER after a failed attempt at calling for an ambulance for the dog.
Ginger was subsequently euthanized due to the extent of the injuries.
A warrant was issued for Luedtke on January 29, but police have been unable to locate him and are now asking for the public's assistance. He is known to frequent the Essex area, having recently stayed in homes on Goodwood Avenue and Maryland Avenue.
Anyone with information on Luedtke's whereabouts is asked to contact police at 410-307-2020 or contact detectives in the Essex Precinct at 410-887-0230.
Facebook Comments