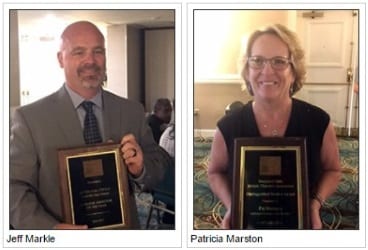 Towson, MD – Jeff Markle, Parkville High School athletic director, has received the BCPS District VI Athletic Director of the Year Award, and Patricia Marston, administrative secretary in the Baltimore County Public Schools Office of Athletics, has received the Distinguished Service Award, both from the Maryland State Athletic Directors Association (MSADA).
Markle has been a member of the BCPS Athletic Department for the past nine years and has worked for BCPS for 24 years. In addition to the work he does at Parkville High, Markle has served on the Maryland Public Secondary Schools Athletic Association (MPSSAA) baseball committee and as the BCPS baseball director and a regional tournament director. He was recognized in 2007 with the Outstanding Teacher Award from Parkville High's PTSA and in 2006 with the District VI Baseball Coach of the Year from BCPS. Markle also teaches the coaching competencies portion of the BCPS care and prevention of athletic injuries course. He took on this responsibility to have a greater impact on BCPS coaches.
"I can say without a shadow of a doubt that Jeff Markle represents everything positive about Baltimore County athletics," said Michael Sye, BCPS coordinator of athletics. "His drive, determination, and commitment to the student athletes at his school and across our state show his passion and the intrinsic values that athletics teach all of us. I take great pleasure in knowing that I have Jeff Markle as a part of the BPCS Athletic Department team. He continuously raises the bar for not only his coaches but his student athletes as well."
Marston has been a BCPS employee for 27 years, having spent 22 of those years in the Office of Athletics. She handles the numerous functions of the Office of Athletics as well as assisting with the state championships for cross country, lacrosse, and wrestling. She also has volunteered at numerous MPSSAA tournament events. Although it is not a part of her responsibilities, she frequently attends the MSADA conference as it provides her an opportunity to stay connected to the state association as well as athletic directors across the state.
"Seldom have I been able to recommend someone without reservation," said Sye. "It is a pleasure to do so in the case of Patricia Marston. She is more than an administrative secretary, she is an important part of the success of the BCPS athletic program. She continues to go above and beyond her duties in the Office of Athletics as well as the state. She has handled all of her responsibilities with professionalism and class. She has earned others' trust and respect through consistent honesty and professionalism in all interactions. Her willingness to handle the daily duties of the Office of Athletics, while assisting with the administration of our building management makes her a true team player and consummate professional. Patricia Marston is a valuable member of our team and a deserving person for this award."
The honors were presented in late April at the association's annual awards banquet.