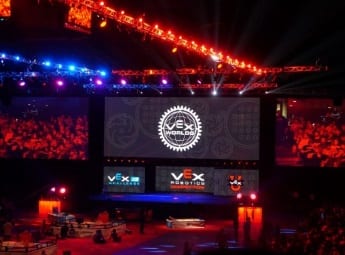 TOWSON, MD – Eleven teams representing Baltimore County Public Schools have qualified to participate in the VEX Robotics World Championship, sponsored by the Northrop Grumman Foundation, to be held April 19 – 25 in Louisville, Ky.
The participating teams are Dulaney High School team 1727G; Eastern Technical High School teams 5839E and 5839A; Hereford High School team 929U; Hereford Middle School teams 929B, 929J, 9290B, and 9290D; Patapsco High School team 6274B; Ridgely Middle School team 952B; and Towson High School team 934Z..
The teams secured spots at the world's largest robotics competition through its success at the Maryland State Championships, where they won excellence, design, robot skills, or semifinalist awards, or won the event as a tournament champion or teamwork champion.
"Participating in the VEX Robotics Competition in school has strengthened the students' interest in science, technology, engineering, and mathematics and given them the skills they need to succeed well beyond high school." said Patapsco High School teacher Ryan Hoge. "We're excited to attend the VEX Robotics World Championship to compete with teams from around the world."
According to Jason Morrella, president of the Robotics Education and Competition (REC) Foundation, "Qualifying for the VEX Robotics World Championship is the culmination of a full year's worth of academic success and an opportunity to join the best robotics teams from around the world to celebrate and help us crown world champions from elementary school, middle school, high school, and college."
VEX Competitions are the fastest growing competitive robotics programs for elementary schools, middle schools, high schools, and colleges around the world, with nearly 18,000 teams from over 40 countries that participate in more than 1,300 competitions worldwide. The competition season culminates each spring, with the VEX Robotics World Championship. The VEX Robotics World Championship will feature approximately 1,400 of the top teams from around the world.
Related articles