o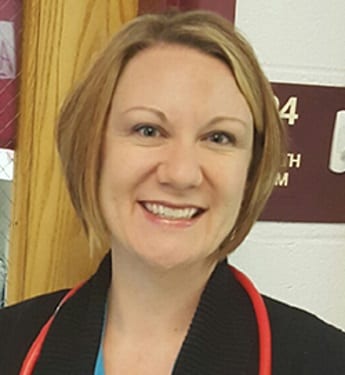 TOWSON, MD – Kristy Gorman, school nurse at Essex Elementary School, is Maryland's finalist in America's Greatest School Nurse contest, sponsored by Pfizer. Votes to support her can be cast at http://www.americasgreatestschoolnurse.com/ now through Sunday, April 16th.
As a state finalist, Gorman has won a $500 prize. If she wins the national honor, her prize will be the "Ultimate Summer Vacation" – an all-expenses-paid 8-day/7-night trip to any destination in the continental U.S. for her and up to three guests.
"Kristy Gorman is more than a school nurse," said Essex Elementary Principal Amy H. Grabner. "She is a vital part of our school culture and community. Somehow she even finds time to volunteer at local centers like the Skylark Senior Care. She works diligently to treat the whole child and is a resource to all students and staff members. Nurse Gorman goes above and beyond to provide information to parents as well, to make them feel at ease. She is a true Rock Star!"".
In nominating Gorman, Randy Quinn, Essex Elementary's assistant principal, wrote: "Kristy G. is a tireless advocate for children! She has made a strong positive impact in the one year she has been with our school. She goes above and beyond the normal nurse duties of bandaging scraped knees, measuring sugar levels of diabetic students, and tube feeding students with more severe medical needs. She treats the whole child, which means involving the child's family. Kristy works with state social service agencies to provide needed food, clothing, and mental health services for the child and family. She has the staff participating in a healthy eating contest to keep us healthy, too."
In addition, Essex Elementary School's building chief, Wendy Boyden, has been named one of 10 finalists in Cintas Corporation's national Janitor of the Year contest (#JOTY). To cast your vote for Boyden, please visit www.cintas.com/JOTY. Voting will close Friday, April 14. If Boyden wins, she will receive a $5,000 cash prize along with $5,000 in Cintas and Rubbermaid products and services for Essex Elementary.