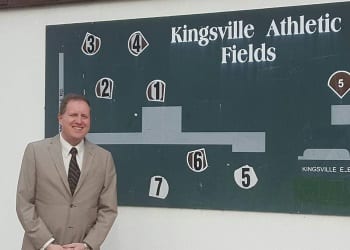 Baltimore County Councilman David Marks recently toured Kingsville Park, where his office has been working with Baltimore County to upgrade the deteriorating fields. Kingsville Park is a 23-acre recreational area located at 11700 Franklinville Road.
The $636,500 project will improve drainage at the ballfields, upgrade the parking area, and make areas accessible to disabled visitors. At this point, the Department of Recreation and Parks anticipates that the upper fields will be finished this summer, and then work with start on the lower fields.
"We have been working with the Kingsville Recreation Council and the Department of Recreation and Parks for several years on this project," Councilman Marks said. "Many thanks to Director Barry F. Williams and county staff, as well as all the volunteers and parents with the Recreation Council for their patience as this work advances."
Kingsville Park is one of five recreation projects completed or underway in the northeast since 2010. Councilman Marks also worked on Angel Park, Soukup Arena, the Perry Paw Dog Park, and Gough Park.
The Kingsville Park project has been especially complicated because work is also underway to air condition Kingsville Elementary School, forcing teams to use other nearby parks.