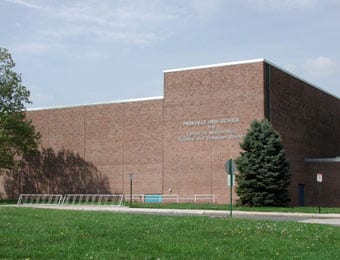 Four students from Baltimore County Public Schools will be among the 20 Baltimore-area students to appear on WBFF-TV FOX 45, WNUV-TV The CW Baltimore, and WUTB-TV MyTV Baltimore saluting their personal heroes during January and February of 2017.
The BCPS students – Lillian Behan of Hereford High School, Edgar Contreras of Parkville High School, Natalie Geipe of Catonsville High School, and Reese Miller of Loch Raven High School – are finalists in the 30th annual "Champions of Courage" Black History Month Essay Competition presented by M&T Bank.
More than 3,000 entries were received from middle and high schools – public, private, parochial, and home-schooled – throughout the Baltimore metro area. The competition challenged students, in Grades 6 through 12, to write a brief essay saluting their personal "Champion of Courage"….a positive role model who has touched their lives by sharing the teachings of Dr. Martin Luther King, Jr.
Each student essayist will be honored and presented with a $100 prize at an awards reception in February. At the reception, the top three essayists will be announced and will be presented with additional awards for their individual effort. And in their honor, their schools will receive cash awards.