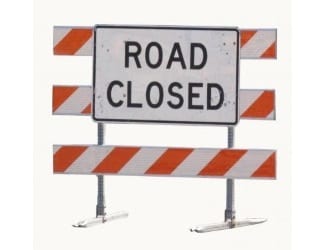 UPDATE, 9/15/16, 9am: Joppa Road has been reopened to traffic.
UPDATE, 9/14/16, 2:45pm: Here is the latest update from Councilman David Marks…
"I have remained in touch with officials from the Baltimore County Department of Public Works throughout the day as officials deal with a sinkhole and water main break near Joppa Road and Seven Courts Drive.
Joppa Road will probably be closed for the rest of the day. Initially, there was some hope that one or two lanes could be opened to permit partial vehicle flow; however, since the damage seems to be extensive and since Baltimore City plans to replace a 14-foot section of pipe which requires large equipment for installation, all of the lanes will be needed at the work site and the road will remain closed.
This section of pipe in the 4100 block of East Joppa Road was installed in 1949. It has failed in the past, and Public Works officials are designing a replacement for construction next spring. The survey and design for this project is 90 percent complete.
As a nearby resident of this area, I know this is a heavily-traveled corridor. I thank the public for its patience, and appreciate the work of county and city officials in getting this route reopened as quickly as possible."
UPDATE, 9/14/2016, 10am: An update from the county, via Councilman David Marks:
"Regarding the current water main break on East Joppa Road: The break of the 12-inch diameter water line has been isolated and reports from the site indicate that there has been extensive damage to the road surface. Joppa Road remains closed."
Original story below…
——
Crews are working to repair the damage after a water main break caused a sinkhole in Perry Hall on Wednesday morning.
The water main break occurred just before 8 a.m. along Joppa Road near Belair Road.
Joppa Road is now closed in the 4100 block between Seven Courts Road and Belair Road.
A sinkhole has opened up near the Weis supermarket.
Motorists should avoid the area.