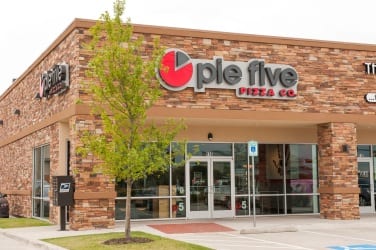 There's a new pizza joint coming to White Marsh.
Pie Five Pizza Co. will be opening its fifth location on Thursday, September 8, at 5209-B Campbell Boulevard in White Marsh. Located just minutes from White Marsh Mall, shoppers will soon be able to take advantage of Pie Five's trendsetting concept where chef-inspired pizzas bake in just 140 seconds.
"We've been able to grow our presence in Baltimore thanks to the support of our loyal customers," said Jeff Mengel, Pie Five Franchisee. "We feel honored to open a Pie Five restaurant in the thriving community of White Marsh and look forward to giving residents the same great artisan pizzas and exceptional customer service that other Baltimoreans have been experiencing since we opened our first location here in 2014."
In celebration of the grand opening, Pie Five will donate a portion of the proceeds from the grand opening to the Living Legacy Foundation, a non-profit health service organization that helps enhance lives through organ and tissue donation.
"The Living Legacy Foundation has been near and dear to my family for years. Our donation is just one of the small ways we can give back to an organization that does so much for the community," Mengel added.
Pie Five's unique fast-casual approach allows customers to create their own personalized pizza in just under two minutes. Pie Five offers each customer unlimited toppings from a selection of more than 28 fresh toppings, seven sauces and four made-from-scratch crusts.
Pie Five also offers vegan, vegetarian and gluten free options, accommodating the dietary needs of all pizza lovers. Customers can also add a fresh, hand-tossed salad or cheesy basket of Breadstix to complement any order.
For more information on Pie Five's Maryland locations, visit the Pie Five location finder.
[Source: Pie Five Pizza Co.]