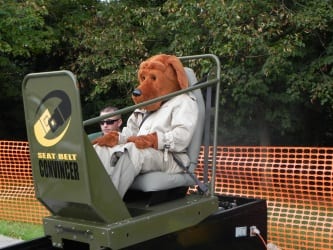 Baltimore County Police and Fire celebrate the 12th Annual Public Safety Day on Saturday, September 17, 2016. The event will be held at 2626 Eastern Boulevard, 21220 (next to the Exxon Tiger Mart).
Public Safety Day begins at 10 a.m. and ends at 2 p.m. Those with intellectual and developmental disabilities and their families will spend 10 a.m. to 11 a.m. interacting with police, firefighters and other first responders. The event is free.
Public Safety Day allows visitors an "up-close" look at police and fire equipment, and includes demonstrations given by Police, Fire and EMS personnel. The demonstrations are entertaining and educational.
Come see the following displays and demonstrations on Public Safety Day:
Police K-9 dogs in action
The BCoPD Tactical Team
Equipment displays
Police armored car
The Baltimore County Police helicopter
Police motorcycles
Seatbelt "Convincer"
Fire Department rescues, using Jaws of Life
Fire engines, Medic Units
Special events for kids, such as face painting, arts and crafts and finger printing
Participants include the Baltimore County Police and Fire Departments; the Baltimore County Volunteer Firemen's Association; the Baltimore County Sheriff's Office; and other local and state agencies. This is your opportunity to bring your questions and concerns to Baltimore County's public safety experts.
The Baltimore County Police and Community Relations Councils, Inc. and Pathfinders for Autism are sponsoring this free annual event.
Mark your calendar and join us for Public Safety Day on Saturday, September 17th.
[Source: BaltimoreCountyMD.Gov]