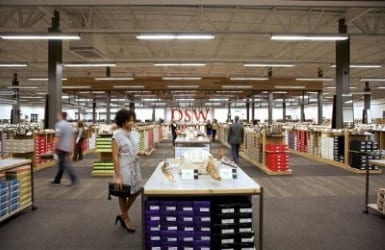 DSW Inc. has opened a new footwear and accessories store in White Marsh.  The new store opened on September 1st in the Nottingham Commons shopping center.
The new store is stocked with name-brand and designer shoes and accessories, arranged in a convenient, self-service type experience. The store has over 21,000 pairs of men's, women's, and kid's shoes in a 15,000-square-foot space.
Customers will find a large selection of the latest fall trends in footwear at an extraordinary value. For women, sneakers, athletic shoes, boots, and pumps line the aisles. For men, oxfords, boots, sneakers, and athletic shoes are available in many brands and styles. And customers can find an assortment of styles for kids, like sneakers, dress shoes, and boots from their favorite brands. Plus, each store will have an impressive assortment of men's and women's accessories like bags, scarves, jewelry, socks, and more.
Customers will enjoy shopping in an environment where associates are always ready to assist in finding more styles, sizes, and colors. For those who prefer to shop at home, customers can now order online from dsw.com and use In-Store Pick-up to get their shoes quickly at their local DSW store.
"We're excited to open a new store in the White Marsh area," said Valara Gee, Vice President of Stores. "As DSW's footprint continues to grow, we're committed to delivering a shopping experience that exceeds the expectations of our customer."
[Source: Investors.DSWShoe.com]
Related articles