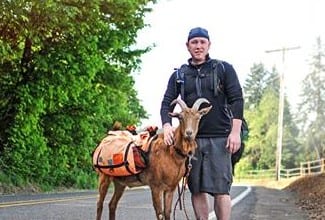 A man making a trek across the U.S. with his goat made a stop in Kingsville over the weekend.
Steve Wescott and his goat, LeeRoy Brown, started their journey from the base of the Space Needle in Seattle, Washington on May 2, 2012, and they've been walking ever since.
Wescott is pursuing his mission to walk 3,800 miles from Seattle to Times Square in New York.
The mammoth journey is all part of an effort to raise money and awareness Uzima Outreach, an orphanage in Nairobi, Kenya.
From Steve's official website:
Steve Wescott was just a musician in a band looking for the opportunity to break into the music world. He eventually left everything behind in order to tour full time for a shot at stardom. However, in 2010, Steve felt God call him to walk across America.
Steve and LeeRoy stopped to eat at the Gunpowder Lodge on Belair Road on Sunday.
Wescott now only has 200 miles to go.
You can keep up with their journey on Facebook here, or make a donation here.