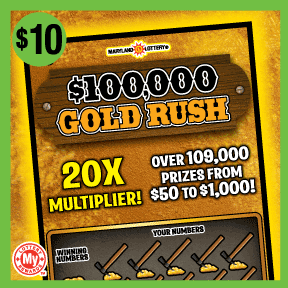 A White Marsh woman finally cashed in on her winning, $10,000 Maryland Lottery scratch-off card.
She had been holding on to the precious card since April. It took the office manager several months to get a day off from work so she could visit Lottery headquarters and claim her winnings.
The woman won big on a "$100,000 Gold Rush" ticket. She purchased her lucky ticket from a vending machine at the Kwik Mart located at 901 Middle River Road in Baltimore. The Baltimore County resident took the $10 ticket home and scratched it and "shock" quickly set in.
"I couldn't believe it," she said. "I looked at it and looked at it again, and I did the math in my head. And then, I did it on a calculator. I didn't think it could happen. It's exciting. It's wonderful. I'm overjoyed."
The lucky winner, who hasn't been identified, hasn't told anyone about her big win either. She plans to use the prize money to pay bills, but doesn't have any special plans for her jackpot. She enjoys playing scratch-offs and is also a regular at Racetrax, the Lottery's computer-animated horse racing game, that once gave her a $1,000 prize.
The "$100,000 Gold Rush" ticket hit stores in January, and two of its $100,000 top prizes have not yet been claimed. There is also one unclaimed $20,000 prize and three remaining $10,000 prizes, along with thousands of additional prizes ranging from $10 to $1,000.
[Source]