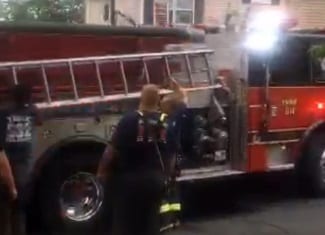 Emergency crews were on the scene of a dwelling fire in Edgewood on Thursday afternoon.
At about 1:15 p.m., units from the Joppa-Magnolia Volunteer Fire Company responded to the 1800 block of Grempler Way for a report of a fire.
At the scene, crews found smoke showing from the top floor of the end-of-group townhome.
Units from the Abingdon Fire Company and Fallston Fire Company also arrived on the scene and quickly got the blaze under control.
There are currently 35 firefighters working on the scene as well as 8 pieces of equipment.
No injuries were reported.
LIVE on #Periscope: #jmvfc8 live at the townhouse fire in #Edgewood https://t.co/gnPgjegdpD

— Joppa-Magnolia VFC (@jmvfc8) June 23, 2016