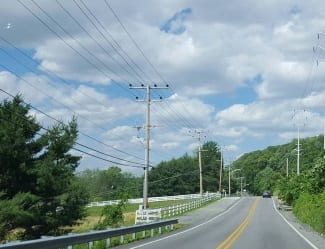 Baltimore County Councilman David Marks on Monday said that he would recommend that the zoning along a major section of the Cromwell Bridge Road corridor be reduced to the lowest point allowed for development.
The 167-acre area stretches from Goucher Boulevard across the southern side of Cromwell Bridge Road to Satyr Hill Road. It includes forested property once part of the Ma and Pa Railroad and much of the area near the BGE power lines. The rezoning issue is 5-040.
Councilman Marks will recommend DR 1 for the private property, or one house per acre, and Neighborhood Commons zoning for public and HOA property.
Most notably, the Towson Estates neighborhood will be zoned to DR 1, which should help protect this unique community from more intense development.
"The Cromwell Bridge corridor is among the most scenic in Baltimore County," Councilman Marks commented. "I am concerned about how clear-cutting of trees will affect the beauty of this corridor, but also increase erosion on the high slopes that lead onto Cromwell Bridge Road."
The zoning changes were endorsed by the Cromwell Valley Park Council and community associations in Towson Estates and Cromwood-Coventry.
Glen McFaul, owner of McFaul's Ironhorse Tavern, noted that preservation of the corridor is good for business. "This is a gorgeous part of Baltimore County, one that draws many tourists who frequent our business and use the trails at Loch Raven Reservoir and Cromwell Valley Park."