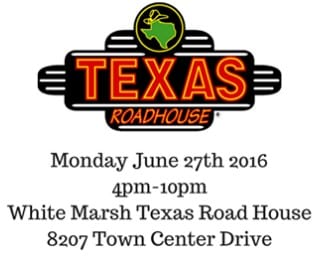 The White Marsh Volunteer Fire Company will be holding a fundraiser in White Marsh next week.
The local fire company, which is trying to raise money to build a new station off of Route 7, will be holding a fundraiser at the Texas Roadhouse in White Marsh on Monday, June 27th.
Patrons who inform their server can have 10% of their bill donated to the WMVFC Capital Campaign.
The event will take place from 4 to 10 p.m. at the Texas Roadhouse located at 8207 Town Center Drive.
Additional details can be found here.