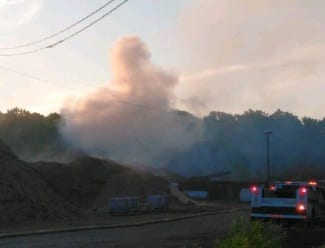 A large mulch fire early Wednesday morning resulted in the closure of a local roadway.
At about 5 a.m., crews responded to Wirtz & Daughters Landscape Supply, located in the 6200 block of Days Cove Road for a report of a fire.
Upon arriving at the scene, crews from the White Marsh Volunteer Fire Company found that two conveyors had caught fire.
The blaze then spread to a nearby mulch pile.
The flames were extinguished quickly and no injuries were reported.
A portion of Days Cove Road remains closed for cleanup this morning.
[Image via Baltimore Breaking New Network]