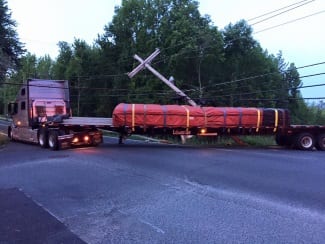 Emergency crews were busy clearing a tractor trailer crash along Philadelphia Road on Tuesday night.
At about 8:30 p.m., crews from the White Marsh Volunteer Fire Company responded to Route 7 near Joppa Road for a report of an accident.
At the scene, responders found that a tractor trailer had struck a telephone pole.
Power lines are down in the area and Philadelphia Road is currently closed at Joppa Road.
There was no word on any injuries.
Motorists should avoid the area.
[Image via WMVFC]