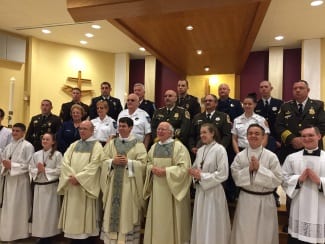 A local church held a special Mass to honor first responders on Sunday.
St. Isaac Jogues Catholic Church in Parkville held a Blue Mass at their 11:15 a.m. service and recognized all police, fire and emergency personnel in the local community.
The service began with a procession of officers accompanied by bagpipers.
The Mass featured a blend of traditional and contemporary music, with a theme focusing on being called to serve.
At the conclusion of the service, all first responders in attendance were presented with a special medal commemorating their service to the local community.
An outdoor reception followed the service.
You can watch video of the opening procession below.