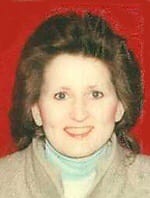 Baltimore County Police are looking to the public for information that could help them solve a murder that took place some three decades ago.
On the evening of April 15, 1986, 26-year-old Janice Lynn Potter arrived home from work and ate dinner in her Talister Court home in Rosedale. Janice was two months pregnant at the time and went to the basement after dinner to watch TV in the family room. Just before he left for school in College Park at 6 p.m., her husband opened the sliding glass door slightly because the wood burning stove in the basement was putting out too much heat.
At about 10 p.m., Mr. Potter came home to a horrific sight: Janice had been brutally murdered.
Investigators believe that sometime between 6 and 10 p.m., someone entered the home through the open sliding glass door and stabbed Janice Potter repeatedly. Multiple items were taken from the home that included:
a ladies yellow gold ring with one ruby;
a ladies yellow gold ring with one emerald;
a ladies 14K white gold ring made up of a diamond surrounded by five sapphires;
a ladies 14K white gold wedding band, with the engraving June 14, 1981;
a 1/3 carat diamond white gold engagement ring;
a pair of 1/4 carat white gold pierced earrings; and
an antique sterling silver salt and pepper shaker.
In the weeks before her death, Janice Potter had been on the receiving end of annoying telephone calls. Investigators believe that the person responsible for those calls may be the same person who killed her.
This incident remains under investigation by the Baltimore County Police Homicide Unit. Investigators believe that a neighbor who resided on Talister Court in 1986 may hold the key to solving this crime.
Anyone with information on this case is asked to call police at 410-307-2020 or Metro Crime Stoppers at 1-866-7LOCKUP.