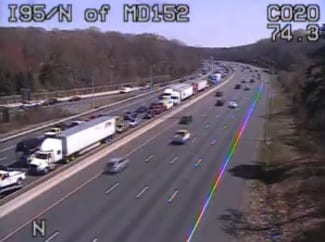 Those heading south on Interstate 95 should expect delays on Friday.
A box truck crash has closed several lanes along I-95 south just the Mountain Road exit (exit 74).
The truck crash occurred at about  11:45 a.m. and led to debris and fuel leaking onto the highway, according to the Maryland Transportation Authority.
The three right lanes along southbound I-95 are currently closed.
Motorists may want to use Route 40 as an alternate route.