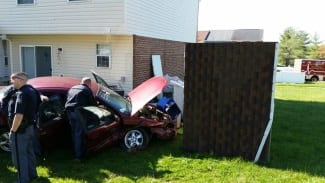 A single-vehicle crash snarled Parkville traffic on Wednesday morning.
At about 9:30 a.m., emergency personnel responded to the area of Upton Road and Kintore Road for a report of an accident.
At the scene, crews found that a single vehicle had gone off the roadway and crashed. The vehicle lost control, went off the road, down a hill, and struck a shed attached to a townhome.
Upton Road is currently blocked at Kintore Road.
The 17-year-old female driver of the vehicle and the 17-year-old female passenger were both taken to an area hospital to be treated for minor injuries.
No other injuries were reported.
Investigators believe that speed may have been a factor in the crash.