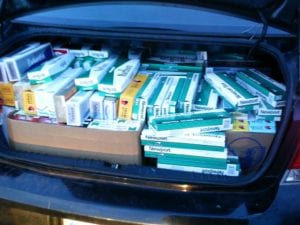 BALTIMORE, MD – The Maryland Transportation Authority (MDTA) Police have arrested a New Jersey man who had nearly 4,000 packs of untaxed cigarettes with a retail value exceeding $25,000 in his vehicle.
On Wednesday, April 6, an MDTA Police Officer stopped Rosendo Perez-Torres, 68, of Elizabeth, New Jersey, on northbound Interstate 95 in Baltimore County. Perez-Torres, who was driving a 2006 Chevrolet Impala, had his vehicle's rear license plate obscured. After a roadside interview, the officers located the cigarettes in the vehicle's trunk and took Perez-Torres into custody without incident.
The MDTA Police contacted the Comptroller of Maryland – Field Enforcement Division regarding the seizure, and an agent charged Perez-Torres with transporting cigarettes within Maryland without the tobacco tax being paid and unlawfully possessing more than 30 cartons of unstamped cigarettes. The total tax loss for the state of Maryland is $7,900.
The investigation revealed Perez-Torres was traveling from North Carolina to New Jersey. After processing, Perez-Torres appeared before a District Court Commissioner where a $10,000 bail was set.
In recent weeks, the MDTA Police also recovered more than 28,000 packs of untaxed cigarettes with a retail value of nearly $185,000.