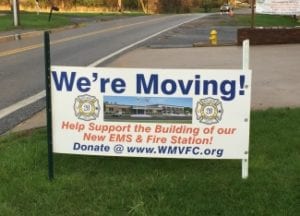 The White Marsh Volunteer Fire Company's Capital Campaign for its new station is in full swing, and next week a trio of events will take place to further their cause.
On Tuesday, April 12, 2016, stop by Richardson Farms for a Firehouse Fundraiser, presented by the Chesapeake Gateway Chamber of Commerce.  Admission is $25 and can be paid at the door.  You can also purchase tickets by clicking here.
The event takes place from 4:30 t0 6:30 p.m. and will include networking, food and a station update.
Richardson Farms is located at 5900 Ebenezer Road in White Marsh.
Then, on Friday, April 15, 2016, from 6 to 9 p.m., the Perry Hall White Marsh Business Association presents its 2nd annual "Tastes & Grapes" event to benefit WMVFC.
This event will feature beef prepared by Chef Ben from Richardson Farms, chicken from Bill Bateman's Towson, seafood from Riverwatch, Italian food from Liberatore's Perry Hall and dessert samplings from The Yummery.
"Tastes & Grapes" will take place at DeJon Vineyards, located at 5300 Hydes Road. Tickets cost $50.
On Saturday, April 16, 2016, Sierra Pacific Mortgage in White Marsh will host a "Shred Day" from 10 a.m. to 1 p.m. Participants are encouraged to bring any valuable documents they would like to have shredded, along with a monetary donation to the WMVFC Capital Campaign.
Sierra Pacific Mortgage is located at 11100 Pulaski Highway in White Marsh.