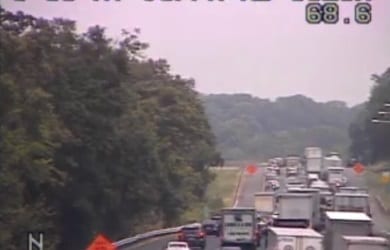 UPDATE: The tow truck driver has died from his injuries – details here.
Original story below…
——
Crews are on the scene of a serious, Thursday afternoon crash along Interstate 95 in Kingsville.
At just after 12:30 p.m., paramedics responded to northbound I-95 at the Baltimore County/Harford County line.
Reports indicate that a tow truck collided with a tractor-trailer.  Multiple patients are trapped and in need of rescue.
Story continues below
Crews from Joppa-Magnolia Volunteer Fire Company, White Marsh Volunteer Fire Company, Kingsville Volunteer Fire Company, and the Baltimore County Fire Department are on the scene.
The highway is being shut down so a medevac chopper can respond to the scene.
Motorists should avoid the area.
Facebook Comments