WASHINGTON, DC—AAA projects that 55.4 million travelers will head 50 miles or more from home over the Thanksgiving holiday travel period. This year's Thanksgiving forecast is an increase of 2.3% over last year and marks the third-highest Thanksgiving forecast since AAA began tracking holiday travel in 2000. The top two years were 2005 and 2019, respectively.
The Thanksgiving holiday travel period is defined as the five-day period from Wednesday, November 22 to Sunday, November 26.
"For many Americans, Thanksgiving and travel go hand in hand, and this holiday, we expect more people on the roads, skies, and seas compared to 2022," said Paula Twidale, Senior Vice President of AAA Travel. "Travel demand has been strong all year, and AAA's Thanksgiving forecast reflects that continued desire to get away and spend time with loved ones."
Most Thanksgiving travelers will drive to their destinations. AAA projects 49.1 million Americans will get behind the wheel, an increase of 1.7% compared to 2022. Drivers could be paying less for gas than last Thanksgiving when the national average was $3.58. This year, the national average peaked in mid-August at $3.87 and has been coming down since, despite global tensions causing ripples through the oil market.
AAA expects 4.7 million people will fly over Thanksgiving, an increase of 6.6% compared to 2022 and the highest number of Thanksgiving air travelers since 2005. Tuesday and Wednesday before Thanksgiving are the busiest air travel days ahead of the holiday and the most expensive. While Sunday is typically the busiest day to return home, AAA data shows Monday is also a popular day to fly back after Thanksgiving.
The number of people traveling by cruise, bus, and train over Thanksgiving is up nearly 11% over last year. AAA expects 1.55 million travelers will head out of town using these other modes of transportation, which took a huge hit during the pandemic but have rebounded nicely.
"The cruise industry, in particular, has made a remarkable comeback," Twidale added. "Thanksgiving cruises are mostly sold out, with many travelers looking to spend the holiday at sea."
Best/Worst Times to Drive
INRIX, a provider of transportation data and insights, expects Wednesday, November 22, to be the busiest day on the roads during the Thanksgiving holiday travel period, with average travel times as high as 80% over normal in some metro areas. INRIX recommends leaving in the morning or after 6 p.m. to avoid the heaviest holiday congestion.
"The day before Thanksgiving is notoriously one of the most congested days on our roadways. Travelers should be prepared for long delays, especially in and around major metros," said Bob Pishue, transportation analyst at INRIX. "Knowing when and where congestion will build can help minimize holiday traffic frustrations. We advise drivers to use traffic apps, local DOT notifications, and 511 services for real-time updates."
Overall Busiest Day to Drive

Date

Time

Compared to Typical

Wednesday, Nov 22

2:00 – 6:00 PM

11.44%

Best and Worst Times to Drive

Date

Worst Travel Time

Best Travel Time

Wednesday, Nov22

2:00 – 6:00 PM

Before 11:00 AM

Thursday, Nov 23

11:00 AM – 3:00 PM

Before 10:00 AM, After 5:00 PM

Friday, Nov 24

12:00 – 4:00 PM

Before 11:00 AM, After 7:00 PM

Saturday, Nov 25

3:00 – 5:00 PM

Before 12:00 PM

Sunday, Nov 26

3:00 – 5:00 PM

Before 12:00 PM

Peak Congestion by Metro

Metro

Route

Peak Congestion Period

Est. Travel Time

Compared to Typical

Atlanta

Birmingham to Atlanta via I-20 E

Friday, 5:00 PM

4 hours 2 minutes

54%

Boston

Boston to Hyannis via Pilgrim Hwy S

Thursday, 3:30 PM

1 hour 58 minutes

54%

Chicago

Chicago to Milwaukee via I-94 W

Wednesday, 4:00 PM

2 hours 1 minute

18%

Denver

Fort Collins to Denver via I-25 S

Friday, 5:45 PM

1 hour 37 minutes

27%

Detroit

Detroit to Grand Rapids via I-96 W

Wednesday, 2:15 PM

3 hours 8 minutes

35%

Houston

San Antonio to Houston via I-10 E

Sunday, 4:45 PM

4 hours 2 minutes

38%

Los Angeles

Los Angeles to Bakersfield via I-5 N

Wednesday, 4:30 PM

2 hours 59 minutes

88%

Minneapolis

Rochester to Minneapolis via US-52 E

Friday, 5:30 PM

1 hour 56 minutes

15%

New York

Jersey Shore to New York vis Garden St Parkway N

Sunday, 11:15 AM

1 hour 51 minutes

64%

Portland

Cannon Beach to Portland via Sunset Highway E

Sunday, 2:45 PM

1 hour 59 minutes

36%

San Diego

Palm Springs to San Diego via I-15 S

Sunday, 4:45 PM

2 hours 39 minutes

24%

San Francisco

Monterey to San Franciso via Santa Cruz Hwy N

Sunday, 7:00 PM

3 hours 10 minutes

63%

Seattle

Seattle to Bellingham via I-5 N

Wednesday, 3:30 PM

2 hours 39 minutes

71%

Tampa

Tampa to Orlando via I-4 E

Thursday, 8:15 AM

1 hour 55 minutes

36%

Washington, DC

Washington, DC to Baltimore via Balt/Wash Pkwy N

Wednesday,

2:00 PM

1 hour 13 minutes

71%

SOURCE: INRIX
Additional information can be found in the AAA graphic below.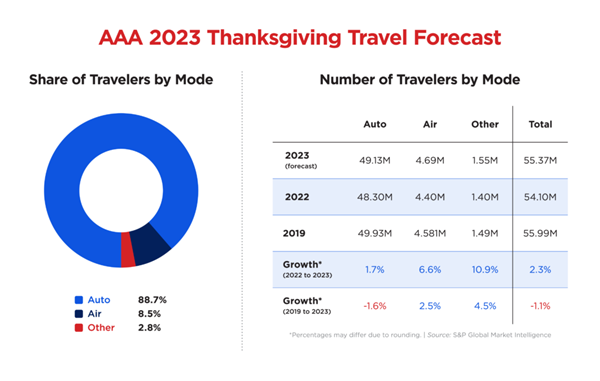 Photo by Taras Makarenko from Pexels